The following guide was originally published on Palm Infocenter and updated by community member Tavisco. Want to contribute? Submit your own guide for a chance to be featured!
---
Many users have expressed frustration with PalmSource's move away form the Original Graffiti input system they have used and been accustomed to for many years. A simple method to replace Graffiti 2 has been discovered. Read on for a full step by step tutorial.
Back in January, PalmSource announced a licensing agreement for CIC's Jot handwriting recognition software for the next generation of data input for the Palm OS. PalmSource has committed to Graffiti 2 as the next generation input method for the Palm OS.
To the delight of many long time users, original Graffiti can be restored in a few simple steps. Resident Hong Kong Palm OS enthusiast, Brando, recently posted the basic instructions on his website. You will need access to a Palm Tungsten T or Sony Clie with Palm OS 5.0 to get the necessary files for the procedure.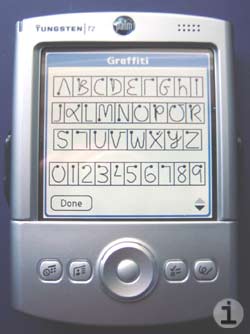 Step 1
Use a handheld that has the original Graffiti system installed. Use a handheld file manager, such as FileZ, to locate the following files (You will need to check the ROM box, as the files are stored in the device ROM):
Graffiti Library.prc, size: 30k, creator: grft Graffiti Library_enUS.prc, size 22k, creator: grft
Or, download the files directly.
Step 2
Beam or copy the above 2 files to the target handheld you want to install original Graffiti on.
Step 3
Preform a soft reset (simply press the devices reset pin), and you're set to start enjoying original Graffiti again.
PalmInfocenter tested this procedure with a Tungsten T and were able to successfully install Graffiti over Graffiti 2 on a Tungsten T2, Zire 71, Tungsten C and a Sony Clie NX80V. Other models that run Palm OS 5.0 should also be compatible. Even after the replacement the write anywhere on screen feature of Palm OS 5.2 still function as normal, even on the Tungsten C. The on-screen Graffiti reference also reverts back to the original guide.
Restore Graffiti 2
If for any reason you want to restore Graffiti 2, you must perform a hard reset. A Hard reset it performed by holding the power button down during a reset. This will restore the handheld to its original factory state, and will wipe out all of your installed programs and data, so make sure you have a recent backup on hand.
Or, Ben Combee sent in this tip that will allow you to revert back to Graffiti 2 without a hard reset:
Step 1
In FileZ, go to the Details form for each database. Change both the name and creator code of each one.
Step 2
Soft reset your device.
Step 3
In FileZ, delete the two databases, then soft reset.
---
Notice
PalmDB is proudly hosted by fans for fans and is not affiliated with the former Palm Computing company or its current rights holders in any official capacity. While we are not able to provide official support, if you appreciate our efforts to keep Palm alive, please consider donating to PalmDB! Also, join the Discord community for discussion of all things Palm and Pocket PC!