PalmDB is a community effort to preserve the work and history of Palm OS and its developers. From 1996-2007, Palm dominated the pocket computer marketplace and ushered in the modern smartphone era years before it became mainstream. Originally marketed as business devices dubbed "personal digital assistants" (or PDAs), Palm found unexpected popularity in the home as well, with a vast library of apps and games arising for use both in and out of the office. Future models would go on to be some of the first smartphones ever made.

The Palm Company
Palm Computing, Inc. was founded in 1992 by Jeff Hawkins, originally to write software for other companies exploring the then-new field of pocket computing devices. When these other devices failed, Palm embarked on the journey to create their own, culminating in the release of the Palm Pilot 1000 in 1996.
Though primitive by today's standards, the Pilot featured very competitive specs for the time, offering a 16 MHz processor; upgradeable memory starting at 128KB; a 160x160 monochrome display; and most importantly, a resistive touchscreen supporting stylus input for navigation and handwriting recognition through Palm's Graffiti software. Future models would go on to offer faster processors, more memory, and vibrant color displays up to 320x480 in resolution.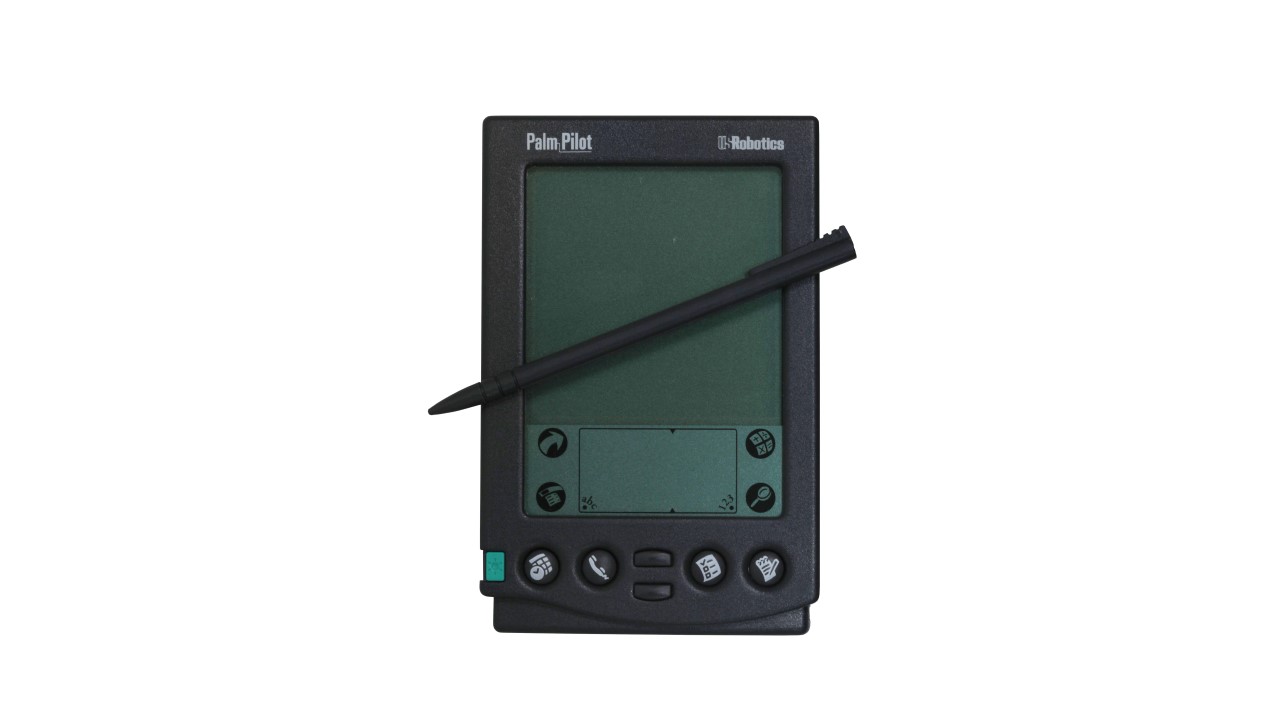 Unlike modern smartphones, Palm was designed to be a companion to a PC, featuring desktop software for synchronizing contacts, to-do lists, memos, calendars, and even emails and Microsoft Office documents. Some could even connect to the internet directly, or store images, music, and movies on external SD cards.
The operating system, simply named Palm OS, was incredibly flexible, and neatly balanced closed source code with an open ecosystem. Nearly any part of the OS could be modified by third-party apps, leading to a thriving catalog of enhancements and addons, not to mention custom spins on the user experience by hardware manufacturers like Sony, Fossil, and Tapwave. For more than a decade, Palm OS was a hotbed for innovation and creativity.
Unfortunately, in the late 2000s, Palm Computing suffered under a variety of acquisitions and subsequent mismanagement that left Palm OS to stagnate. In 2009, the company emerged again with webOS, a competitor to Apple and Android smartphones with modern hardware and software features. Although webOS proved again to be highly influential, it failed to compete in the modern smartphone market and again fell prey to acquisitions which ultimately led to its demise.
Today, Palm's legacy lives on in the open source edition of webOS, now owned by LG, where it is used in some models of smart TVs. In 2018, Chinese corporation TCL acquired the rights to the Palm brand and created the Palm Ventures Group, which developed a tiny, Android-based Palm "companion" phone.

The PalmDB Community
PalmDB is focused on preserving the earlier days of Palm; its apps, and its operating system. By the late 2010s, most websites for distributing Palm software had shut down or simply removed the content in favor of more modern alternatives. Although it is said the internet never forgets, for a time, Palm's history was in grave danger of being lost. Recognizing the threat, PalmDB was founded in 2018 with the intent to gather what remained and bring it back online. But in the end, it became so much more.
Through community forums like /r/Palm and Discord, more people than ever are rediscovering Palm OS and rallying around PalmDB and its sister projects in support of our mission. Together, we've collected thousands of apps, made them easily discoverable and accessible once again, and even created platforms for experiencing them on modern PCs and smartphones.
Today there are more than 3.5 billion smartphone users in the world--and counting. If you're one of them, the history of Palm is your history. At PalmDB, we believe this history deserves to be remembered and made available to all, both today and well into the future.